Credits
Crew (4/2010-5/2011)
Crew (5/9/2011)
Crew (current)
Destiny Database
Questions
Log > > >
Latest Log Entry -- 18 July 2017
Welcome to the re-launch of Destiny, my homage to and continuation of Stargate: Universe.
Less than a week after the final episode aired, I started working on the art and plot. Life forced me to delay the planned 2014 premiere for a year, and then conspired against me again to force me to put it on hiatus after only 20 strips (though 36 were drawn). I finally feel things are settled enough to commit to re-launching it, and upping the schedule to 2 per week. Not sure if anyone will ever read it beside me, but it's mostly for my own satisfaction anyhow. Other people enjoying it would be a serious plus, but is not a requirement for me to continue. That said, if you're reading this, I hope you like it.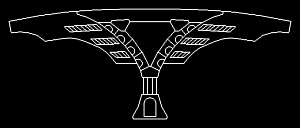 Log Entry -- 17 July 2017
It was a bad weekend for genre fans. We lost two of the greats. George A. Romero (1940-2017), who created the modern zombie movie and ushered in horror-as-social-commentary with 1969's Night of the Living Dead. And Martin Landau (1928-2017), the Oscar winner for Ed Wood, but perhaps better know for his iconic roles in Mission: Impossible and Space: 1999. Thank you, gentlemen, for the many, many hours of entertainment you provided.